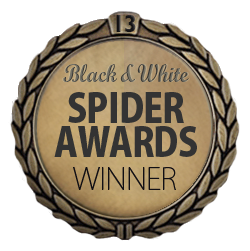 My image "Linked" was awarded 'Honorable Mention' honors in the Still Life category in the 13th Annual Black and White Spider Awards competition. The Black and White Spider Awards is the leading international Award honoring excellence in black and white photography.
Linked - Honorable Mention Award, Still Life Category
"Linked" was taken in the old granary building at a friend's farm. Light from a small window illuminated a rugged chain, casting its shadow on the rough hewn wall. Both chain and wall, complete with its bird droppings, splinters, scratches and rural hieroglyphics, symbolized for me the tough life of farmers. The shadow cast by the soft directional light added musculature to the already tough looking chain as if to drive home its virility and ruggedness.
I'm very proud of this one.
In addition to "Linked", three other of my images were selected as nominees in their respective categories:
HVAC - Nominee, Architecture
Prairie Cumulus - Nominee, Nature
Game of Thrones - Nominee, Abstract
These four were selected from over 6400 entries from around the world. "It's an incredible achievement to be selected among the best of the 6,404 entries we received this year," said Basil O"Brien, the awards Creative Director.
Sharing in the honors this year were a number of my photography friends and colleagues: Carolyn Knorr, Michael Knapstein, Jim Sterne, Marcia Getto and Michael Rausch. I extend hearty congratulations to you all, and apologies to anyone I may have missed.